Rainworth incinerator plan turned down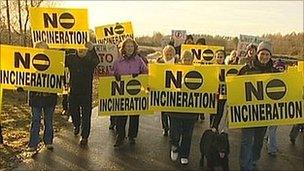 Plans for a waste incinerator in Nottinghamshire have been turned down by the government.
Veolia wanted to build the waste to energy facility on the former Rufford colliery in Rainworth but had faced determined local opposition.
Despite getting county council backing, the scheme went to a public inquiry.
Now Local Government Secretary Eric Pickles has agreed it could adversely affect wildlife. Veolia said it had not yet decided whether to appeal.
Campaigners, who had expressed concerns about pollution and traffic, said they were delighted at the decision.
Shlomo Dowen said: "This is a site which is much loved by local people and also loved by nature.
"We always felt this was an unsuitable site for an industrial facility like an incinerator and we have been proved right."
The facility had been expected to deal with 180,000 tonnes of rubbish a year.
The county council, which approved the project in January 2009, said it would now explore other solutions for handling waste.
Kevin Parker, from Veolia, said: "This energy recovery facility would have been taking hundreds of thousands of tonnes of waste away from landfill.
"It would have generated enough electricity for 15,000 homes, heat and power to local business and indeed brought new jobs to Rainworth and the surrounding area.
"We will wait until the dust has settled before deciding on the next move."
Related Internet Links
The BBC is not responsible for the content of external sites.