Radford derelict building fire was arson, say police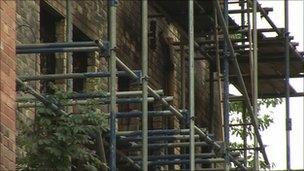 Police are looking for two teenagers in connection with a suspected arson attack at a derelict building in Nottingham.
Several nearby homes had to be evacuated during the fire at the three-storey building in Lake Street, Radford, on Friday night.
Officers are treating the incident as suspicious, and said two young males were seen leaving the area at the time.
The building, which had been undergoing renovation, was badly damaged.
A spokesman for Nottinghamshire Police said: "Two teenagers were seen leaving the Peveril Street and Lake Street area at the time of the incident.
"They have been described as white males, in their mid teens and both of slim build. One was wearing a dark coloured tracksuit with red stripes running down the arms and legs. The second was wearing dark trousers and a pale long sleeve top."
Anyone with information about the fire, which is believed to have been started at about 1900 BST, should contact the force.
Structural engineers have been examining the building to assess whether it is at risk of collapsing.
Related Internet Links
The BBC is not responsible for the content of external sites.