Nottinghamshire County Council cuts save £20m extra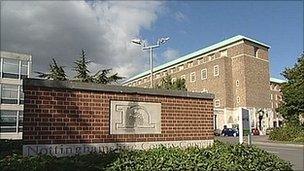 An extra £20m has been saved by Nottinghamshire County Council on top of planned cuts, it has been announced.
The authority is looking to save £150m in the next three years, due in part to a drop in central government funding.
Coming on top of £29m in budgeted savings, the extra money in 2010/2011 included underspends on adult social care and children's services.
But the union Unison said the figures showed the Conservative-led authority was cutting harder than necessary.
The underspend on adult social care totalled £9.5m, while children and young peoples services used £3m less than expected.
Other savings included £2.9m from finance and property and £2.21m from transport and highways.
Council officials said restricting non-essential spending, like staff travel and conferences, had also saved more than £1m.
They added that most of the money would go towards redundancy payments. About 2,500 posts from a non-teaching workforce of 11,000 are due to be lost.
The council itself admits the eight most senior posts it needs to lose will alone cost £1m in redundancy.
Reg Adair, the county council's cabinet member for finance and property, said: "This saving is not about reducing front-line services which would affect Nottinghamshire residents.
"We are determined to drive out every saving and make the council a more cost effective and value for money organisation."
Unison said the size of the underspends were a cause for concern, not celebration and showed deeper than needed cuts which were bound to damage services.
Related Internet Links
The BBC is not responsible for the content of external sites.