Notts' Manière des Bohémiens record album in five hours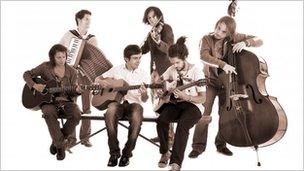 A band from Nottingham said they took only five hours to record their debut album.
Manière des Bohémiens, who describe their music as gypsy jazz, completed When the Road Bends, last year.
The album is now available to buy after it was launched at the Nottingham Contemporary, on Saturday.
"It was an intense session," said the band. "We just did it, played the tracks, played them again, tidied up a few of the bits and it was done."
Manière des Bohémiens' live sets are almost entirely improvised and they tried to stick to that principle with the album.
"We had a structure that we agreed before we started each track," said violinist Rob Rosa.
"But we didn't decide any earlier than just before playing, that's the way we do it live so we didn't want to change that."
The last five tracks on When the Road Bends, which is an old gypsy proverb, were recorded live at the Nottingham Contemporary where the band have a monthly residency.
Manière des Bohémiens were guests of BBC Radio Nottingham's The Beat with Dean Jackson.
You can listen to the show every Saturday night from 6.00pm - 10.00pm (103.8, 95.5FM, 1584AM and DAB).
Related Internet Links
The BBC is not responsible for the content of external sites.