Victor Massey 'tried to stab Pc with glass' inquest hears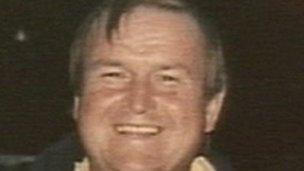 A man who died after being restrained at a Nottinghamshire hospital tried to stab a police officer with a piece of glass, an inquest has heard.
Victor Massey, 54, from Westwood, died at King's Mill Hospital in August 2006.
He had been admitted with pancreatitis and severe pain but had to be restrained after staff called police.
Mr Massey died from cardiac arrest following restraint in combination with pancreatitis and the drug tramadol, a pathologist concluded.
The Nottingham jury heard staff at the hospital in in Sutton-in-Ashfield needed help after Mr Massey ran off and locked himself in a shower room.
Staff heard shouting and believed he had smashed a mirror, the inquest at Nottingham's Council House was told.
In her evidence, night nurse Ianthe Manning said Mr Massey "was the most violent patient she had seen" and "we are just women, he was ill but powerful".
Jonathan Hall, a healthcare assistant at the hospital, described how four police officers responded to the call for help and CS gas was used on Mr Massey. His arms were handcuffed behind his back and he was dragged out of the shower room, Mr Hall said.
A security supervisor said CS gas was used on Mr Massey after he tried to stab a Pc through the shower room door with a piece of glass.
Related Internet Links
The BBC is not responsible for the content of external sites.