Rainworth incinerator refusal 'will cost council £13m'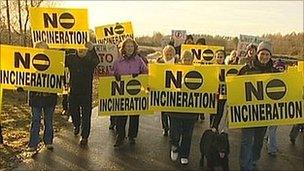 Nottinghamshire County Council has said it faces a bill of £13m after a failed bid to build a waste incinerator.
Last month the government turned down the scheme in Rainworth - which had been the focus of fierce opposition - because of its impact on wildlife.
The authority had lobbied communities minister Eric Pickles, claiming delays in the decision had already cost £5m and put pressure on other services.
It has now said it faces £8m in future landfill tax and planning costs.
Debated for more than five years, the plan had been for a waste-to-energy facility on a former colliery site to deal with 180,000 tonnes of rubbish a year.
But environmentalists and some nearby residents had campaigned against it, saying the incinerator would damage wildlife and create extra traffic.
County councillor Richard Butler said the refusal "had not done us any favours".
He added: "The £5m is overall for the past four or five years, but now we have an extra delay because of the application being refused - we haven't got an overnight solution.
"So whatever happens, whatever the next answer is to this, we are going to be in a similar position to the one we have been in for the past few years in that the non-recyclable waste is going to have to be taken to landfill."
The authority said it would work with waste management firm Veolia on future options.
Campaigners however have rejected the council's claim that the failed plans would cost it millions.
Shlomo Dowen, from People Against Incineration said the project was "more expensive than landfill in economic terms".
"We know this application was always doomed. We tried to tell them - there is no reason for them to suddenly wake up today and think 'why haven't we got a Plan B'.
"We've been urging them to work together on a contingency plan, it's the only responsible thing to do.
"In terms of the pounds and pence, the fact we didn't have an incinerator saved us £4.5m last year.
"The county council has been able to build up a reserve of £22.7m to date and so we think this decision is something good for the taxpayers in Nottinghamshire."
Related Internet Links
The BBC is not responsible for the content of external sites.