Man filmed beating dog with wrench in Nottingham park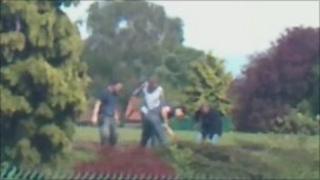 RSPCA officers have appealed for help in tracing a man who was filmed beating a dog with a wrench in Nottingham.
A passenger sitting on a bus stopped next to Lenton Abbey Park witnessed the attack on the dog and filmed about 20 seconds of the three-minute attack.
The witness said he saw a man go off and return with a monkey wrench to break up a fight between two dogs.
The dog was beaten repeatedly and is not thought to have survived, the RSPCA said.
'Sickening' attack
The witness, who does not want to be identified, said: "At first we saw two dogs fighting and the larger dog appeared to have a smaller dog in its mouth.
"Then a man appeared to start punching the larger dog to get it off the smaller one. But then another men went off to a nearby van and returned holding what looked like a monkey wrench.
"He then started hitting the larger dog in the head with it. I don't think there was any way this dog could have survived, its body looked limp afterwards."
RSPCA inspector Dave McAdam asked anyone with information about any of the three men and one woman seen in the video to come forward.
"This is a sickening incident and it is really distressing to watch such an awful attack taking place. No animal deserves to be treated in this way," he said.