Speed cut call after crash on Nottinghamshire's A614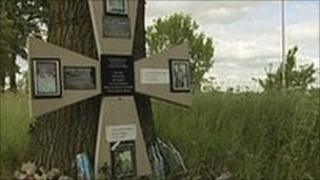 The speed limit should be reduced on a road in Nottinghamshire where six people died in a crash, the road safety minister has said.
Four teenage boys and a Nottinghamshire couple died on the A614, in a crash near Bilsthorpe, in 2009.
Mike Penning, road safety minister, also called for the installation of average-speed-check cameras.
Nottinghamshire County Council said it is planning to cut the speed limit to 50mph on the road.
Mr Penning joined Sherwood MP Mark Spencer and the families of some of the crash victims at the site on Monday.
'Inappropriate overtaking'
"My observations are that there are huge amounts of traffic - some of it is clearly speeding - and a very dangerous junction," Mr Penning said.
"Something needs to be done about it - there is no doubt about that."
Council spokesman Suzanne Heydon said: "We are committed to reducing casualties on the A614 and worked with local councillors to introduce road safety features such as hidden dip signs in the Bilsthorpe area.
"In addition we are implementing a reduced speed limit of 50mph along the A614 from Leapool roundabout, near Arnold, to Ollerton roundabout.
"We will continue to monitor speeds and collisions and consider any further engineering measures as appropriate."
Mr Spencer also called for improvements to two junctions on the road that he estimated would cost £1.5m each.
The Nottinghamshire coroner concluded the accident happened as a result of "inappropriate overtaking" by the driver of the teenagers' car.
Ross Johnson, 19, Thomas Hudson, 17, Jay Thompson, 18, and Joshua Drinkwater 18, all from north Nottinghamshire, died in the crash on the A614 near Bilsthorpe on 13 February 2009.
Jonathan and Christine Bray, of Edwinstone, in their 60s, also died.