Nottingham climate change professor receives top award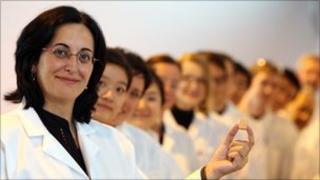 A Nottingham academic has received a top award in recognition of her work fighting climate change.
Professor Mercedes Maroto-Valer, from the University of Nottingham, got the award for her research into carbon capture and storage.
It is hoped her work will help slow the rise of worldwide carbon dioxide (CO2) emissions, which are predicted to reach 34.3 billion metric tonnes by 2015.
The professor said she was "truly honoured" by the accolade.
'Catastrophic effects'
Professor Maroto-Valer is head of a team of 50 researchers developing carbon capture technologies which siphon off greenhouse gases released when power plants burn fossil fuels.
The team hopes to create a product which allows CO2 to be "locked up" inside rocks and safely stored, or turned into bricks or filler for concrete.
"CO2 acts as a greenhouse. It raises the temperature and creates potentially catastrophic effects," said Professor Maroto-Valer.
"Carbon capture and storage is one of the few technologies that allow us to stop greenhouse gases while we are developing an economy that is based on more renewable energies.
"Our work is one of the answers to the problems of CO2. We need to develop many answers and become more efficient in the way we use energy," she said.
As part of the award Professor Maroto-Valer will be going on a lecture tour to promote her team's work and forge collaborations with universities across the UK.