Nottinghamshire group tackles 'alien' Himalayan balsam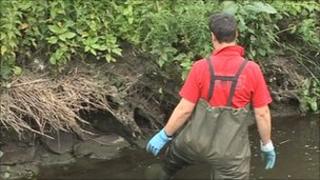 A conservation group are trying to rid Nottinghamshire of a foreign plant that is affecting the region's native species.
Nottinghamshire Biodiversity Action Group is scouring rivers for Himalayan balsam to stop it from spreading.
The plant can grow up to 7ft (2.13m) tall and is classified as an alien invasive species.
The group has been working along the River Leen and the River Maun pulling the plants out of the ground.
"The big problem with it, and why it is so evasive, is that each plant can produce up to 20,000 to 30,000 seeds at the end of the season," said Chris Jackson from the Nottinghamshire Biodiversity Action Group (BAG).
"[The seeds] then get spread across water courses, like the River Leen."
Public records
Nottinghamshire BAG, which includes the partners Nottingham City Council, Nottinghamshire County Council and Nottinghamshire Wildlife Trust, wants the public to help rid the county of the plant, completely.
"We want to know where it is on the smaller water courses," said Mr Jackson.
"The Leen, the Erewash, the Maun, the Meden, the Polser, the Greet, across Nottinghamshire, so if people can send in records that would be much appreciated."
About four miles (6.5km) of the River Leen, and 440yd (400m) of the River Maun has been targeted.
By focusing on these key areas, the Biodiversity Action Group hopes balsam growth will also be reduced downstream.