Leicestershire driver starts blue badge appeal fund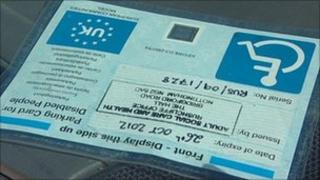 A pensioner says he was so incensed by a fine for a disabled driver displaying his blue badge upside down, he drove to Nottingham to start a campaign fund.
Peter Knott, 76, who suffers from severe arthritis, was issued a parking ticket in a car park in West Bridgford, Nottinghamshire.
On hearing the news, Randolph Martin, from Thurmaston, Leicestershire, drove to Nottingham with an appeal donation.
Meanwhile, Rushcliffe Borough Council said it wants to meet with Mr Knott.
'Nonsense' claim
"It really incensed me being a disabled driver myself," said Mr Martin.
"I know where to park and how to park and on a disabled badge... nowhere does it say which is front and which is back, as long as the wheelchair sign is visible, it's perfectly legal and OK."
Mr Knott has appealed against the fine and is awaiting a response.
"It is just so petty. You go out to do your shopping and park in a disabled space where you think you are fairly safe and you're not," he said.
David Mitchell, head of partnerships and performance at Rushcliffe Borough Council said: "This has blown out of all proportion. It is not our policy to use the media as a stage for the appeals process. Our rules are clear, well publicised and prominently displayed.
"Our advice for other customers would be to make sure they correctly display their badge and make sure their clock is accurate.
"We have not fined Mr Knott, all we have done is issue him a ticket and we would welcome the chance to talk to him, rather than conducting the process via other parties."
An online government guide for the blue badge said it must be visible and the information on it must be legible.
Chris Buck, of the Disability Law Service, said the decision to fine Mr Knott was "nonsense" adding that the council must have misunderstood the regulations.
On seeing Mr Knott's plight on BBC East Midlands Today, Mr Martin asked the BBC to pass his donation on.