UK Holocaust Centre receives rare anti-Nazi leaflet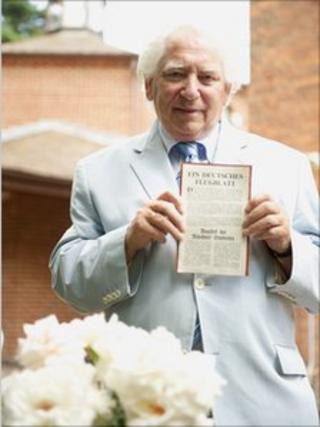 A collector has donated a rare World War II leaflet which attacks Hitler's regime to the Holocaust Centre in Nottinghamshire.
The anti-Nazi document produced by the White Rose student movement in Munich in 1942 called for civil disobedience.
It was reprinted in the UK and air-dropped by the RAF.
William Kaczynski said he had given the artefact to the memorial and museum in Laxton because of its work to educate young people.
"As an organisation celebrating the courage shown by those students in Munich, and encouraging others to show active humanity today, I could not think of a better place," he said.
Hot property
The White Rose student movement produced and circulated six leaflets attacking Hitler's regime.
But in 1943 the organisation was betrayed, six of its leading figures were executed and the rest jailed.
A copy of one of the leaflets found its way to the UK and was reprinted and air-dropped by the RAF in an effort to help turn the Germans against Hitler.
Those that survived are believed to have been mementos of the RAF pilots who dropped them.
"Due both to Allied fire-bombing and to the danger that would befall anyone caught by the Gestapo in possession of one of these air-dropped leaflets, it is thought that very few of them survived the war," said Professor Hinrich Siefken, an expert on the White Rose movement.
"The leaflet being donated by William Kaczynski is a remarkable and very rare original."
Mr Kaczynski, a child refugee from Nazi Germany, purchased the artefact from another collector.
Helen Whitney, director of the Beth Shalom Holocaust Centre, said: "We're absolutely thrilled at William's generosity."
The leaflet will be on show to the public for the first time at the White Rose Ball, being held to raise funds for the Holocaust Centre's work, at the Oval cricket ground in London on 25 September.