Study into new mothers and weight loss by gaming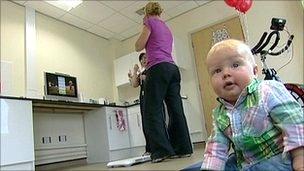 Nottingham academics are studying how interactive computer games might help new mothers lose excess weight.
It follows a Royal College of Midwives survey in which 67% of new mothers said they felt anxious about their body but did not want to exercise in public.
Scientists will monitor 20 - 30 mothers during a 12-week exercise programme using the Nintendo Wii Fit Board.
Dr Kirsty Elliott-Sale said they wanted to find "positive ways" of dealing with weight-loss problems.
"As a mum myself with two young children I know it's often hard to find childcare," said the scientist from the Health and Performance Enhancement Research Group at Nottingham Trent University.
"Gym membership is expensive and you might not want to don your lycra in public.
"This technology is already out there."
Dr Elliott-Sale said the regime would be a mix of serious exercise "interspersed with fun activities like kung fu" in the comfort of the volunteer's own home.
"We'll make it fun and accessible and something that you're going to stick with for a long period of time," she said.
Participants will keep a food diary, not undertake any other physical activity other than that prescribed and have their weight measured before, during and after the trial.
Mother-of-one Charlotte Ramshaw is one of the volunteers taking part.
"The celebrities have babies and all of a sudden they're back to their usual weight," she said.
"I've felt pressure but I'm a full-time mum but I also work four days a week. Trying to fit in exercise is really hard. Fingers crossed this will work."
The trials will begin in August.
Any new mothers who are interested in taking part in the study should email Dr Elliott-Sale.
Related Internet Links
The BBC is not responsible for the content of external sites.