Rainworth incinerator refusal faces legal challenge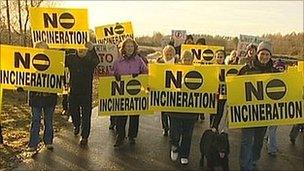 A decision to reject plans for a waste incinerator in Nottinghamshire is to face a legal challenge.
Veolia's plan for a facility near Rainworth to deal with 180,000 tonnes of rubbish a year was backed by the county council.
But in May, Local Government Secretary Eric Pickles turned the scheme down due to its impact on wildlife.
Veolia is now claiming inconsistencies between his decision and other schemes which were granted planning permission.
The project provoked fierce opposition from campaigners who highlighted concerns over pollution and traffic.
The county council claimed the refusal would eventually cost it £13m in landfill tax and planning costs - a figure disputed by opponents.
Steve Mitchell, regional director, Veolia Environmental Services, said: "The government's recent waste strategy confirmed that energy recovery will continue to be an important way in which to deal with municipal and commercial waste.
"It's therefore very important that all stakeholders are aware of exactly what the government expects from companies like ours in the planning process and how best we can work positively through the planning process.
"In light of this it makes sense to establish clarity in the government's current waste and planning policy. We hope to achieve this through this appeal."
A spokesman for the Department for Communities and Local Government said no comment could be made about the legal challenge but said the reasons for refusal had been published in full at the time.
Nottinghamshire County Council, which in 2007 signed a £850m, 27-year, contract with Veolia to handle waste, said it was aware of the challenge and would be monitoring the outcome.
Related Internet Links
The BBC is not responsible for the content of external sites.