Soldier David Greenhalgh's dad moved by memorial ceremony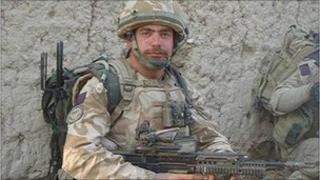 A Mansfield father has said it is important everybody recognises the sacrifice made by soldiers, after seeing his son's name inscribed on the national war memorial.
L/Sgt David Greenhalgh, 25, was one of 112 members of the UK armed forces killed on duty in 2010.
His father, Stephen Greenhalgh attended a ceremony at the National Memorial Arboretum in Staffordshire last week commemorating the dead.
"There was a lot of emotion. Children wearing their daddies medals, wives without husbands.
"It was a very moving ceremony but at the same time it is fantastic that you can see that you are not on your own," he said.
L/Sgt Greenhalgh, from the 1st Battalion Grenadier Guards, was killed in February 2010 when his vehicle was struck by an improvised explosive device in Helmand Province.
It was his second tour in Afghanistan, having previously served in Bosnia and Iraq.
"David's name is one of the most recent to be put on the 40 slab long memorial and that's four slabs in.
"The rest of it is empty space. That's quite profound," said Mr Greenhalgh.
'In heaven'
Mr Greenhalgh said he was a Christian with a strong faith which had been strengthened by his loss.
"I had nowhere to turn when David died except to the Lord," he said.
"David is now in eternity and I understand eternity as being the perfect place to be.
"I don't need to pray for him in heaven."
The ceremony at the National Memorial Arboretum was attended by the Queen.
She laid a wreath at the memorial dedicated to the men and women of the UK Armed Forces killed on duty since the World War II.
"All of these boys go out there prepared to make this sacrifice and some of them do.
"David did. I'm very proud of David.
"I know where he went and I know that I will join him in due course when the time is right," said Mr Greenhalgh.