Nottingham riots: Girl aged 11 admits damaging shops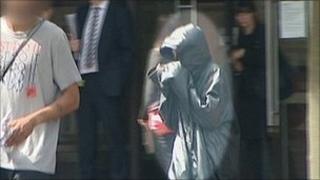 An 11-year-old girl, who left primary school last month, has admitted taking part in riots in Nottingham.
At Nottingham Magistrates Court the girl, who cannot be named, pleaded guilty to criminal damage and attempted criminal damage of shop windows.
Before being given a nine month referral order she told the court she did not think she would be caught.
More than 100 people have been arrested and 61 charged in connection with two nights of disturbances in the city.
The court was told the 11-year-old was part of a group of 30 to 40 girls and boys who were throwing stones and missiles at properties on Tuesday night in Nottingham city centre.
Smirking apology
The district judge, Morris Cooper, asked her: "Do you know how serious this is?" She replied "Yes, I realise it was more than just messing about."
Asked why she did it, she replied: "Everyone was egging me on and I wanted to join in."
Mr Cooper then asked "Did you know that you could get into trouble?" She replied: "Yes but I didn't think I would get caught".
Mr Cooper said the referral order was much longer than normal because of the seriousness of the incident of which she was a part.
The girl, who is in foster care in Derbyshire, smirked as she was asked by her father to apologise to the district judge.
On Tuesday night, police stations were attacked and some fire bombed. Mobs of up to 50 people also damaged cars, pubs and shops in the city centre and other districts.
A crowd of about 30 people attacked houses and cars in the St Ann's area on Monday night.