Nottingham anti-gang strategy revealed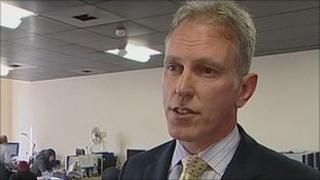 A strategy to deal with gangs behind violent street crime in Nottingham has been unveiled.
Nottingham Crime and Drugs Partnership admitted up to 300 young people were involved in such groups in the city.
While recent riots had put the issue in the headlines, work to deal with it had begun some months ago, it added.
Using outreach groups, the partnership said it hoped to identify why individuals joined gangs and then provide alternatives such as training.
Two nights of disorder in Nottingham, last week, began when a gang of about 30 people damaged cars in the St Ann's area.
'Real support'
The multi-agency Nottingham Crime and Drugs Partnership said the neighbourhood, along with Radford, The Meadows, and Bulwell, was being targeted by the gang strategy.
Peter Moyes, leader of the partnership's initiative, explained that while the police had seen success against serious and organised crime groups, the authorities now needed to concentrate on the grass roots.
"This is about tackling about 200-300 people who live in the Nottingham area and focussing on their individual causes of gang membership," he said.
"What we need to do is prepare our young people for work and make sure they have jobs to go to and we need to tackle deprivation in the city."
Mr Moyes said the concern was those involved had "little respect for the rest of society".
"They have little respect for the police or authority and we have seen that demonstrated over this last week," he continued.
"But we also have seen real support for the police and authorities in tackling this type of behaviour and we want to galvanise that so we have a positive relationship with the community and we can work toward people towards taking responsibility for their children."
Mr Moyes said he would have preferred the cuts to youth services "had not happened" but the case for additional funding was being made to the government.