Woman killed and man badly hurt in Selston tree crash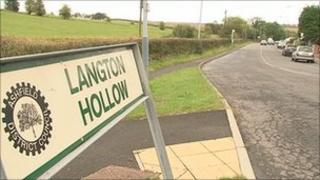 A woman was killed and a man seriously hurt when a car left the road and hit a tree in Nottinghamshire.
Police said the driver of the Subaru Impreza appeared to have lost control at the B6016 Langton Hollows in Selston, near the Derbyshire border.
The woman died at the scene and the man was taken to King's Mill Hospital with severe head and arm injuries.
Police want to trace a car thought to have been travelling near the Impreza before Saturday night's crash.
Det Sgt James Greely said: "We are trying to trace the occupants of the second car, which was travelling from Selston towards Jacksdale.
"The occupants of this vehicle may have crucial information about the circumstances surrounding this crash."
Anyone with information about the crash, which happened at about 2100 BST, should contact Nottinghamshire Police.