Man arrested after Nottinghamshire cigarette raid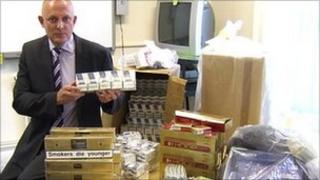 A 52-year-old man has been arrested after the seizure of thousands of counterfeit cigarettes.
Police officers and trading standards officers raided a residential property in Mansfield, Nottinghamshire, after a tip-off.
More than 20,000 cigarettes and 10kg (22lbs) of rolling tobacco were found.
The counterfeit copies did not meet UK warning label standards and had not been subject to tax duty, trading standards officers said.
Some of the tobacco had even started to go mouldy, the officers added.
Councillor Mick Murphy, cabinet member for community safety at Nottinghamshire County Council, said: "Legitimate businesses are being robbed of trade and we all lose out through the loss of tax revenue which helps fund essential services.
"While we do not promote smoking, we have a duty to ensure that the tobacco people smoke is genuine, as safe as it can be, duty paid and properly labelled to warn users of the health risks they face by smoking it."