Newark Bus Station in Nottinghamshire opens to the public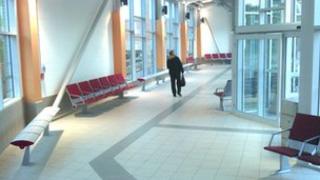 The new bus station in Newark, Nottinghamshire, has been opened to the public.
The town's buses will now depart from the site on Lombard Street instead of the temporary station at The Wharf.
The facility was built as part of a £50m re-development of Newark's former Potterdyke car park, carried out by supermarket giant Asda.
The site includes a doctor's surgery, health centre, housing and 411 car parking spaces.
Nottinghamshire County Council said it hoped the new bus station would encourage more people to use public transport.
It was officially opened on Friday by Councillor Keith Walker, the chairman of Nottinghamshire County Council, and Councillor Keith Sheppard, chairman of Newark and District Council.
Site campaign
In 2008, campaigners in Newark won their fight to prevent the bus station from being moved permanently to The Wharf.
About 9,000 people signed a petition opposing a planning application to relocate the facility from Lombard Street.
They said it would have spoiled the gateway into the town.
The Potterdyke Consortium, which is behind the new development, said they had decided to keep the station in the same place following public consultation.