Nottingham 'personal touch' scheme aims to boost economy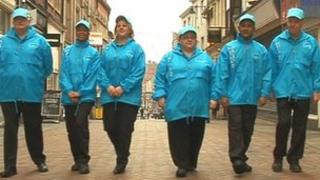 A "personal touch" scheme has been introduced in Nottingham in a bid to boost the retail and leisure economy.
Street ambassadors have been hired by Nottingham's Business Improvement District (BID) to welcome visitors to the city and provide information.
The team is to give directions and recommend restaurants, seven days a week. The project aims to offer people a positive view of the city.
The BID has said parts of Birmingham and London run similar projects.
The BID's chief executive Sylvia Oates said the ambassadors, dressed in a turquoise uniform, would be promoting various leisure and retail choices.
'Gap in market'
"Nottingham has so many fantastic things that we would like to promote, and what better way to do that than through the human touch and make it very personal?
"It's about recognising that someone might have a question, being proactive and approaching them and establishing what needs they might have.
"There's an extra gap in the market for us to promote special offers and provide bus times, but people can come to us for any level of information."
The scheme's supervisor Eric Lovatt said: "If we don't know the answer to the questions, we will have the technology to find out.
"We hope people will enjoy the personal touch and want to come back to Nottingham again."
He added that the street ambassadors could be available until 21:00 on some days.
"We want to be out at the times when people are going out in the city," Mr Lovatt said.
The organisation said the success of the scheme, funded by local businesses, would be assessed in January.