Fresh appeal after girl, 8, attacked in Bulwell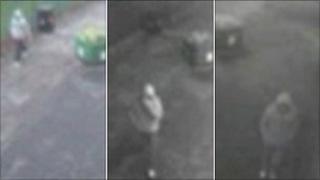 A man who assaulted an eight-year-old girl in a Nottingham town is still being sought by police one year on.
The girl, now aged nine, was attacked by the man in Pulley Park, off Hoewood Road, in Bulwell, at about 18:30 GMT on 23 November, 2010.
The girl had gone out to play with friends when she was led away by the man. She suffered severe bruising.
Police said the man was probably local and may have been dependant on alcohol or drugs.
Supt Adrian Pearson said: "A year is a long time and relationships may have changed since the attack happened.
"Loyalties might have altered and someone out there may have crucial information about the identity of the attacker."
The suspect is described as white, under 5ft 9in (1.75m), of medium build and in either his late teens or early 20s.
The girl said he was wearing a grey hooded top and grey track suit bottoms. She was wearing a black jacket and pink trousers.
'Happy-go-lucky'
The public have been asked to cast their minds back to the time of the attack.
Police said it happened on the same day the Duke and Duchess of Cambridge announced their wedding date.
The mother said the attack had turned her daughter from "happy-go-lucky" to a child who did not trust anybody.
"In my heart I believe that someone out there knows what happened - I think they are just afraid to say who it is," she said.
A man was arrested and charged in connection with the assault but was later released.
Anyone with information can call Nottinghamshire Police or Crimestoppers, anonymously.