Nottingham bone marrow match man hopes to save life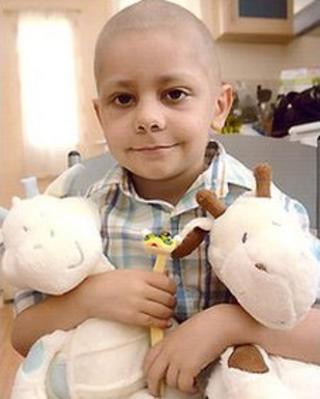 A Nottingham man has been told his bone marrow may match a cancer patient after giving a sample following the death a six-year-old boy.
Alan Fisher, 33, from Gedling, gave a sample of saliva as part of a campaign to recruit potential donors in memory of Joel Picker Spence.
In 2008, the Nottinghamshire boy died of acute lymphoblastic leukaemia.
More than 120 people registered at an event organised by Joel's mother, Ann Marie Spence, on 2 June 2010.
The 'Join For Joel' event, held at Nottingham's Council House and supported by BBC Radio Nottingham, hoped to raise awareness of bone marrow donation and to encourage more people to join the national register.
Mrs Spence said: "I've always said if the event helped one person then I've done something good. Joel reached out to other people."
'Horrible illness'
After providing a saliva sample at the event, Mr Fisher, a data analyst, was later approached to give blood samples.
He said he was later informed by the charity that he was a match for a patient who has leukaemia or lymphoma.
"To be able to do something positive and for it to actually come through is fantastic, because hundreds of people would register and not hear anything," he said.
"And now to actually be able to follow it through potentially with a donation and hopefully prevent somebody being taken by this horrible illness, then that would be wonderful."
Ms Spence said she was delighted by the news. She said that if the 'Join For Joel' campaign saved one life then it would have been worthwhile.