Newstead Abbey Byron Society calls for higher security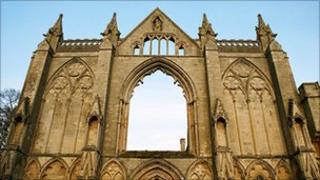 A Nottinghamshire literary society is calling for security to be increased at Newstead Abbey after it was targeted by thieves twice in a week.
Several lengths of lead piping were removed from the building last week and days later more pipes had disappeared.
Newstead Abbey Byron Society said the metal thefts should not have happened.
Nottingham City Council said it has been liaising with English Heritage and Nottinghamshire Police and had stepped up security with a range of measures.
Newstead Abbey, the ancestral home of poet Lord Byron was founded by Henry II as an Augustinian priory in the 12th Century and is one of eight city council-owned museums.
'Secluded and isolated'
Ken Purslow, chair of the society, said the large historic house needed to be better protected by the Nottingham authority.
"Newstead is obviously dark at night, secluded and isolated," he said. "The city council know perfectly well that this isn't the first time they've been subjected to criminal activity.
"In the past, tractors and gang mowers have been stolen, workman's huts and storage blocks have been broken into and things have been taken.
"So the council was aware that there's a problem long before this came to light."
Mr Purslow said the drain piping was "beautifully crafted architectural work of art", which had distinctive emblems in the lead and scrap metal dealers would recognise its historic value.
He added that the cost of replacing the pipes would be "enormous".
Ron Inglis, service manager for Nottingham City museums and galleries, said people stealing lead from its historic buildings was a widespread problem.
"It's happened to our other museums," he said. "We do have security measures in place and we do our best to stop this sort of thing... we take it very, very seriously."
Mr Inglis said he believed the metal thefts at Newstead Abbey were "well organised" and while a police investigation was being carried out the remaining "accessible lead" had been removed.
He added that they had contacted scrap dealers in the hope of recovering the lead pipes.