Single punch death victim's family back campaign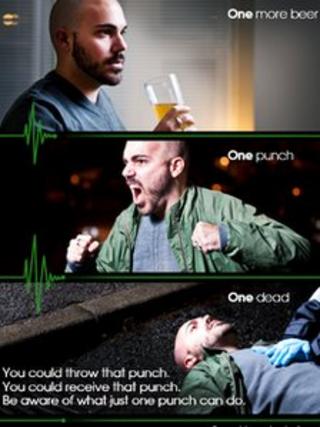 The family of a man who died following an assault in Nottingham has backed a campaign highlighting the fact that a single punch can kill.
Over the past decade there have been seven deaths from one-punch attacks in Nottinghamshire, police said.
One of those was James Hodgkinson, 28, who was assaulted outside Yates's Wine Lodge in the city centre.
His mother Joan Scourfield said the family was still struggling to come to terms with his death.
Disbelief
Mr Hodgkinson, a trainee paramedic, visited Nottingham with his father, brother and three friends on 31 July.
After an argument broke out with another group of men over a pirate hat, Mr Hodgkinson was hit and fell to the ground.
He sustained a fractured skull and suffered a brain haemorrhage which caused his death nine days later.
Ms Scourfield said: "You can't replace somebody once they have gone.
"His 85-year-grandfather feels it should have been him to go, not James. What are you meant to say to that?
"All of his friends are still in disbelief.
"James was a volunteer mentor for underprivileged children in London. The children and his colleagues have been left devastated too."
Jacob Dunne, 19, was jailed for 30 months for the manslaughter of Mr Hodgkinson.
"I don't believe Jacob Dunne meant to kill James, but he may have been looking for a fight and, ultimately, it went horribly wrong," said Ms Scourfield.
"Everyone needs to be aware how just one punch is all it takes to change so many people's lives for ever."
Campaign posters are being distributed in pubs and bars in Nottingham, Mansfield, Worksop and Newark to try to get the message across to the public over the Christmas period, police said.