Driver admits injuring Nottingham special constable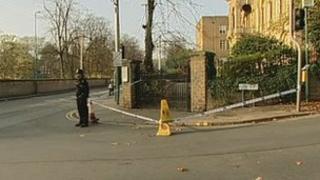 A man has pleaded guilty to seriously injuring a special police constable in a hit and run in Nottingham.
Carly Henfrey suffered a broken leg when she was hit in Shakespeare Street while responding to reports of an altercation on 13 November.
Lee Ashton, 24, of Mosswood Crescent, Bestwood, admitted causing grievous bodily harm, common assault, dangerous driving and driving while disqualified.
He will appear at Nottingham Crown Court on 23 January for sentencing.
Ms Henfrey was on foot and dealing with the altercation involving a group of men in Shakespeare Street.
As she approached the men, the group dispersed and she found herself in the path of an oncoming car being driven by Ashton.
'Screeching tyres'
She was hit by the vehicle which was later found abandoned in nearby Peel Street.
Her leg was broken in three places and she spent four days undergoing treatment at the Queen's Medical Centre, which included having a metal rod inserted into her shin.
Ms Henfrey said: "I really love the job and can't wait to get back out there - I'm not going to let this incident stop me from doing something I really enjoy.
"On the day of the incident I remember running across the road to where an altercation was happening.
"I then heard the tyres of a car screech and found myself in the path of the vehicle.
"As it hit me, I rolled across the top of the bonnet and must have shut my eyes because then all I can remember is being sat upright in the middle of the road with my leg visibly broken in front of me.
"The messages of support I received during my recovery, from not only my colleagues but also from members of the public, were overwhelming and I want to thank everyone for their kind thoughts."