Nottingham Industrial Museum set to reopen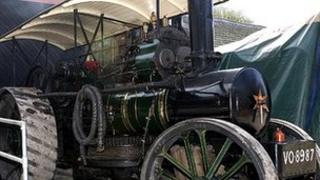 The Nottingham Industrial Museum is to reopen as a volunteer-run attraction after the city council received £91,000 in funding.
The museum closed in 2009 as the council restructured its services.
But now more than 90 volunteers are helping refurbish the Wollaton Park site before it reopens in March.
The centre will be self-sufficient through a small admission fee on Saturdays, Sundays and Bank Holidays, Nottingham City Council said.
'Fully accessible'
Nottingham Industrial Museum, housed in the park's stable block, will offer an insight into Nottingham's industrial heritage.
Exhibits will include steam engines and agricultural machinery as well as lace making machinery which helped to put Nottingham on the textile map, the council said.
An initial grant of £66,000 from the Adult and Community Learning Fund will be used to train volunteers on how to run the centre, from taking care of the collections to marketing the attraction.
Rebecca Wilson, one of the volunteers, said: "This project is a great example of a community working together to show off its local heritage and we have great fun at the same time too."
Councillor Dave Trimble, portfolio holder for leisure, culture and tourism, said: "The reopening will be a great achievement for the dedicated group of volunteers.
"It's fantastic that we can revitalise the museum's collections and make them fully accessible again."
Volunteers are still being sought to help with the project. Anyone interested should contact Nottingham City Council's programmes coordinator on 0115 876 2187.