Nottingham's City of Caves set to reopen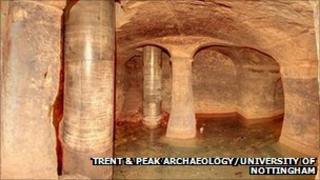 One of Nottingham's main tourist attractions is to reopen after being shut for nine months.
The City of Caves, the entrance to which is in the Broadmarsh Shopping Centre, shut in May as owners Westfield announced plans to revamp the centre.
But in December, the site was sold to Capital Shopping Centres (CSC), a move now under an Office of Fair Trading (OFT) probe.
It is hoped the caves will now open in time for February half-term.
Nicola Burley, director of enterprise and operations for Egalitarian Trust, the organisation which runs the Caves and the Galleries of Justice on behalf of Nottingham City Council, said it was a "little frustrating" the caves had to close at all.
"We have emails from people abroad who want to come to visit the caves, they attract a lot of visitors," she said.
"We know CSC has taken over, we know negotiations are in place and don't know any more than that.
"We only closed down because the Broadmarsh entrance was going to be redone but we have renovated our entrance, in time for reopening in February."
The City of Caves is part of a complex of up to 400 sandstone caves dating back to the Dark Ages, the last of which were in use until 1924.
Long-term plans
On 10 January, the OFT announced it was investigating the takeover of the Broadmarsh from Westfield by CSC.
In a statement, the OFT said the impact of the merger by CSC, which also owns Nottingham's Victoria Shopping Centre, was under way.
Professor Joshua Bamfield, from the Centre for Retail Research in Nottingham, said a decision from the OFT was not expected until September.
"There probably won't be any progress until the beginning of next year and fixed plans could be another couple of years after that," he said.
In March, Westfield submitted plans to Nottingham City Council for a £500m expansion of the centre.
More than 6,000 jobs were expected to be created as part of the redevelopment.
The city council, which owns the Broadmarsh lease, has been planning the redevelopment of the centre for almost two decades.