'Magical' St Ann's Well in Nottingham to be excavated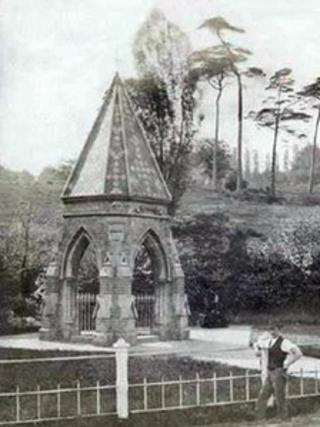 A site of historical significance in Nottingham is to be excavated by a team of archaeologists.
St Ann's Well, a spring once thought to have magical healing powers, lent its name to the city's St Ann's area.
Remains, if any exist, could be under The Gardeners pub which has been demolished to make way for housing.
Gordon Young, archaeologist for Nottingham City Council, considers the site to be of huge local, if not national, significance.
'Easter party'
Mr Young said: "It think it is potentially a very important site, and historically it's not just me that thought it was important.
"On Black Monday, which is Easter Monday, the people of Nottingham used to walk to St Ann's Well and celebrate with a party.
"In the middle of St Ann's housing estate is a site that once had great significance.
"It would surprise people that something like that is under the car park of The Gardeners pub."
Mr Young added that, despite its name, St Ann's Well was not a typical well.
"We need to get away from the idea of thinking it was a well of the type you put a bucket into to get water out."
Last year developers submitted a planning application to build houses on the site of the derelict pub, at the junction of Wells Road and Kildare Road.
The application was deferred after ward councillors said they wanted the importance of the site to be acknowledged.
Nottingham City Council has now granted outline planning permission on the condition that an excavation is carried out before housing is built.
An archaeological desk-based assessment, produced by the University of Leicester ahead of the excavation, said St Ann's Well was a medieval healing spring.
'Pleasure ground'
It was recorded in 1301 as The Brodewell and in other historical references it was called the Owswell or Robin Hood's Well.
The spring was appropriated by monks who built a chapel adjacent to the well and dedicated the site to St Ann, the assessment said.
There are 17th Century records of an annual Easter procession to the well made by the Mayor of Nottingham, aldermen and local officials, accompanied by musicians.
The spring gradually took on more of a secular appeal, the assessment said, becoming "a sort of pleasure ground and public house for the amusement of the local population" by the 19th Century.
A Gothic-like spired structure stood on the site from 1856 to 1887, when it was demolished to make way for the Nottingham Suburban Railway which remained in use until 1954.
The site is expected to be excavated later this year.