Nottinghamshire UK Mobility Plus bosses warned by judge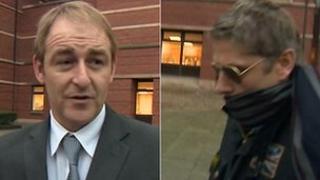 Two businessmen, who took money for mobility aids they never delivered have been given an adjourned sentence.
At Nottingham Magistrates' Court, John Cooney, 37 and Carl Mould, 46, both of Nottinghamshire, admitted breaching an order under the Enterprise Act.
Cooney and Mould, who ran UK Mobility Plus, took deposits of up to £2,100 from people aged 65 and over.
Judge Inglis said if they traded unlawfully before December 2014 they would be jailed.
He told them that they should not take part in activities to sell goods and services to the elderly and vulnerable, adding both men were "unfit" to do so.
In 2010 Nottinghamshire County Council trading standards received 120 complaints about the company from across England.
During that 12 months, Cooney, of Water Lane, Radcliffe-on-Trent, and Mould, of River Crescent, Nottingham, twice signed agreements to operate within the law - but complaints continued.
'Long, hard slog'
UK Mobility Plus closed in January 2011 but trading standards officers traced Cooney and Mould to separate new businesses.
Cooney admitted 36 breaches of the court order, relating to five UK Mobility Plus customers, while Mould pleaded guilty to 12 breaches of the order, relating to four customers, at a county court hearing at Nottingham Magistrates' Court.
Breaches of the undertakings to trade lawfully given by the company included failing to handle requests for refunds properly.
One tactic used by Mould was to ring the office from a customer's home, saying he was getting authorisation for a discount. Judge Inglis described this as a "cynical ploy" and "preposterous".
Nicola Schofield, trading standards manager at Nottinghamshire County Council, said: "Trading standards will continue to monitor them very closely and will have no hesitation in getting them back before the courts if they slip back into old habits.
"This case should serve as a warning that trading standards will relentlessly pursue anyone who is prepared to target the elderly and vulnerable.
"Trading standards investigations in this case have stretched across the country and it has been a long, hard slog, but we are delighted that it has now reached a successful conclusion."