Nottingham Forest fan Robert Dawes ejected 'over emails'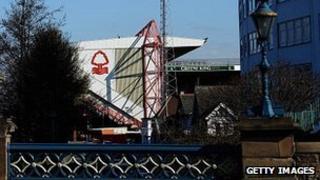 A Nottingham Forest supporter claims he was thrown out of the City Ground because of emails he sent to the club's owner.
Rob Dawes, from Northamptonshire, emailed owner Nigel Doughty and told him to leave using strong language.
He said he was asked to leave the ground at half-time during Tuesday's league match against Burnley and had his season ticket removed.
The club said it took a "dim view" of abusive or threatening behaviour.
A representative will meet with Mr Dawes on Monday, it added.
Mr Dawes said he was approached by three policemen, a security guard and a steward at half-time who asked him to follow them.
"I agree because I don't want to cause a scene and I thought maybe something has happened at home," he said.
"They escort me outside and tell me my ticket is being confiscated. I asked the reason why and they said it's because of an email I sent to the club.
"I'm still in shock that I've been ejected for these emails. I'm just voicing an opinion."
Mr Dawes said he was frustrated at the fortunes of the club, which is in the relegation zone and has won one out of its last 11 league matches.
A Forest spokesman said: "Our Safety Officer Alan Bexon will be meeting with Mr Dawes on Monday to discuss the reasons behind his ejection from the ground during the Burnley game.
"But we take a dim view of people using abusive or threatening behaviour - whether it's on a match day within the City Ground - or in correspondence to individuals connected with the club.
"We will not tolerate such behaviour."
Nigel Doughty resigned as Forest chairman in October but stayed on as owner.
He said he had to step down from the post after his decision to appoint Steve McClaren as manager, who quit after his side lost six out of 10 Championship matches at the start of the season.