Nottingham Workplace Parking Levy: Imperial Tobacco strike possible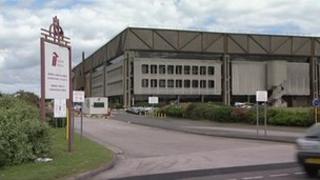 Workers at a Nottingham cigarette factory could be balloted for strike action over the city council's Workplace Parking Levy (WPL).
The Imperial Tobacco plant in Lenton employs hundreds of workers, with many of them driving to work.
Businesses are responsible for the levy which will come into force in April.
The Unite union said passing some of the cost on to workers was "unacceptable" but the tobacco firm said it was a "reasonable approach".
In a consultative ballot, Unite and GMB members voted by 75.6% in favour to progress to a formal ballot for industrial action.
The cost of the Workplace Parking Levy (WPL), which comes into force on 1 April, will be £288 + VAT per space per year - a 3.2% increase from the £279 per space figure proposed previously.
Nottingham City Council has estimated that the WPL, which will be used to pay for transport improvement schemes, will raise about £14m a year city-wide.
'Mega-rich multinational'
Unite regional officer, Luke Primarolo, said: "The council has imposed this levy on employers and it is their responsibility - not the workers.
"However, we now see this mega-rich multinational tobacco company refusing to pay this parking levy and is instead looking at ways to pass some of it on to its workers - this is totally unacceptable to our members."
An Imperial Tobacco spokesman said: "We agree with Unite's view that this is an unacceptable levy, and have expressed our objections to the council's scheme from the outset.
"Nevertheless, we do recognise the scheme's environmental objectives and believe we are taking a reasonable and responsible approach by proposing to share the cost burden with our employees."
Last month Boots announced it would pass on much of the cost of the Workplace Parking Levy to its staff.
Boots said it could not sustain the cost of the WPL but would be contributing £200,000 in subsidies.