Nottingham City Council defends CCTV usage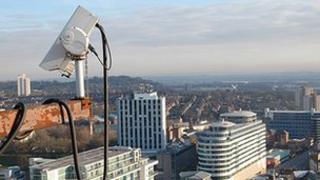 Nottingham City Council has defended its use of about 1,000 CCTV cameras, one of the highest in the country.
Civil rights group Big Brother Watch said the city had more council-controlled CCTV than Leeds, Manchester and Liverpool put together.
The authority said the figures were misleading as about 800 cameras were paid for by its tenants.
It added that about £400,000 was spent on CCTV each year and not more than £1m as stated by the group.
Big Brother Watch, which used figures released under the Freedom of Information Act, said Nottingham City Council had 1,120 CCTV cameras and spent £4.7m over fours years.
Alex Norris, from Nottingham City Council, who has responsibility for community safety, said: "Eight hundred [cameras] are to do with Nottingham City Homes, our council housing arm, which is paid for by those people through their rents by a weekly surcharge.
"We've got 200 public space cameras which to me seems a pretty proportionate number."
He added that those cameras were monitored 24 hours a day and have been used to secure convictions.
CCTV demand
Nick Pickles, the director of Big Brother Watch, wants cameras removed that are not helping to convict people.
"We're calling for councils to publish the number of prosecutions secured by their CCTV cameras," he said.
"If a camera hasn't secured a single conviction in three years then the council should think about withdrawing that camera."
Mr Norris said he did not have a problem publishing that information.
"We don't arbitrarily stick them [figures] up but there's a lot of demand locally [for CCTV]," he said.
"Never once do tenants say I wish we didn't have a camera, they say they want more.
"Big Brother Watch are right to raise that it's not a replacement for policing, it needs to be a supplement."
Big Brother Watch's figures were released under the Freedom of Information Act from 428 local authorities across Britain.
It said councils spent more than £500m installing and operating CCTV cameras over the last four years.
Leicester had the most cameras with 2,083.