Nottingham University creates 'world's smallest emblem'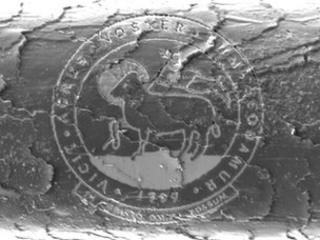 Scientists claim to have created the world's smallest school emblem on a strand of hair.
Technology that can shrink items on an atomic and molecular scale was used to put Ockbrook School's logo on the hair at the University of Nottingham.
Dr Chris Parmenter, at the university's nanotechnology and nanoscience centre, said he "milled" the emblem into a hair 0.1mm wide, using a Gallium ion beam.
The university has previously created the world's smallest periodic table.
'Wow factor'
Two Year 11 students, from the independent Derbyshire school for girls aged 11 to 18, visited the centre as part of a science project.
A digital image of the school's emblem was taken using an electron microscope at a magnification of x2200, to make it visible to the human eye.
School head teacher Alison Steele said there was a "serious educational message behind the wow factor".
She said: "We believe it's the world's smallest school emblem, so it's quite an accolade for the school.
"Our students are learning how these cutting edge technologies are creating new and varied applications which are making science fiction science fact.
"They benefit from many close associations with partner education establishments that enhance the breadth and depth of their learning experiences."
The students originally visited the university to study hair products using electron microscope images of hair samples.
Dr Parmenter added: "We think this is the world's smallest school emblem and are considering submitting it to the Guinness Book of Records for authentication."