Surgeon criticises Nottingham hospitals over cancelled ops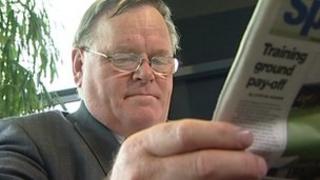 A leading surgeon has criticised Nottingham's NHS hospital trust for postponing more than 300 operations.
Professor Angus Wallace, an orthopaedic consultant, said it was "very frustrating" that so many operations had been cancelled so far this year.
Nottingham University Hospitals Trust said the cancellations were a result of increased emergency admissions.
A trust spokesman said urgent, emergency and cancer-related operations had not been affected.
Mr Wallace, who works at the trust, said: "We have lost at least 100 beds and… the cuts have been to such a level that we are not able to cope with the workload," he said.
'Morale is poor'
"The consequence of what has happened is that patients who have been cancelled are moving into the next financial year."
Mr Wallace called for better communications with consultants, adding: "Morale is poor and we need to improve it."
Dr Nigel Sturrock, clinical director of Musculoskeletal and Neurosciences at Nottingham University Hospitals Trust, said an unexpected increase in admissions was the cause and not budget cutbacks.
In a statement, Nottingham University Hospitals NHS Trust, which runs Queen's Medical Centre and Nottingham City Hospital, said: "We would be grateful if patients might bear with us over the coming busy days - and we apologise for any waits they may experience."
Former nurse Hilary Righton, 53, from Sherwood in Nottingham, said her hip replacement operation had been cancelled twice in the past few months.
She said she was convinced the cancellations were due to budgetary pressure at the end of the financial year.
Mrs Righton said she has been told it could be six weeks before she has her operation.