Nottinghamshire union leaders 'stole £150,000' from miner charity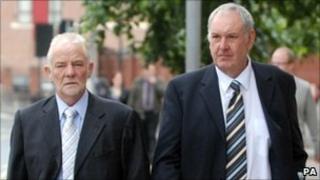 Two union leaders stole almost £150,000 from a miners' charity by billing it for work done on their homes, a jury at Nottingham Crown Court has heard.
Neil Greatrex, 60, former president of the Union of Democratic Mineworkers (UDM), and Mick Stevens, 60, UDM general secretary, deny the charges.
The court was told the men had building work and landscaping done at their houses over a number of years.
They are both charged with 14 counts of theft, between 2000 and 2005.
Mr Greatrex and Mr Stevens got contractors to send invoices to a care home for injured miners, owned by UDM charity Nottinghamshire Miners Home, it is alleged.
'Sophisticated' theft
The men were trustees of the charity and were able to sign cheques on its behalf, the court heard.
Prosecutor Martin Hurst said the defendants abused their position with the charity to pay for the work on their homes using the care home's cash.
Mr Hurst said the work included a fitted kitchen with granite worktops for Mr Greatrex, from Stanley, Nottinghamshire and a cover for a Koi carp pond owned by Mr Stevens, of Rufford Park, also in Nottinghamshire.
"This was a sophisticated attempt by these two men to steal the best part of £150,000 from a charity whose assets they should have been safeguarding and protecting," he said.
Larger homes
It was common practice over many years for officials to charge home improvements to the union, but only when those houses were owned by the union, he said.
Mr Greatrex and Mr Stevens continued doing this, through the union's charity, even when they bought their own, larger homes, he added.
He said the largest amount was paid to building firm John Minkley and Sons, which was paid more than £115,000 for work apparently for the charity's care home at Chapel St Leonards, near Skegness, Lincolnshire.
Mr Hurst said company bosses will tell the jury it had never done any work at the home, but the firm's job book instead listed job after job at the homes of Mr Greatrex and Mr Stevens'.
The trial continues.