Fears Southwell Minster 'may struggle for money'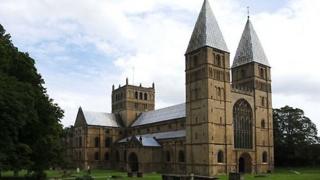 An Anglican cathedral in Nottinghamshire could struggle to remain open in two years if funding grants are cut, its Dean fears.
The Dean of Southwell Minster, Very Reverend John Guille, fears the grant it receives from Church Commissioners could be reduced in 2014.
He said the annual £237,000 was vital to help cover the £1.31m running costs.
The commissioners, who handle Church of England finances, said no decisions had been made over funding beyond 2013.
'Funding worries'
The cathedral's current funding deal, which runs from 2011 to 2013, represented a small fall on the previous three years.
Dean Guille said: "We're very worried about not being able to fund the cathedral in two years time as this is when the Church Commissioners grants will cease at their existing level and we will then not know what income they will give us after this."
The cathedral, which is one of 43 in England, also receives money from other sources including voluntary income, fees, charges, activities, properties, investments and other grants.
Last year its total income was £1.46m of which £1.31m was spent on running costs. The remaining £150,000 was spent on cathedral projects in the community.
Dean Guille feels Southwell suffers from "hidden-gem syndrome", being located in a relatively quiet part of the country.
"We're off the beaten track, the main road doesn't pass us, so I'm in discussions about brown signs to raise the profile and get people here," he said.
"At the moment we just about manage to keep going without charging and we wouldn't manage without the assistance and The Church Commissioners grant.
"It's about £3,600 a day to keep this establishment running, which is a lot of money to find, it's always hand to mouth and it's always hard work."
Dean Guille said it was encouraging that in the past three years, visitor numbers had increased.
In 2009, the Minster had about 77,000 visitors, rising to 90,000 in 2010 and 140,000 in 2011.
A spokesman for the Church of England said: "The Church Commissioners' funding for cathedrals, including Southwell Minster, is now on a three-year cycle, which provides some security for cathedrals (linked to the Commissioners' three-year funding cycle or triennium).
"Two years time will be the start of the new triennium, 2014-16. The simple answer is that there are commitments until the end of 2013.
"Plans for 2014-16 will be determined over the next 12 months, but formal discussions on the criteria for grants to cathedrals for the next triennium have not yet been opened."