Student boat chosen for Queen's Diamond Jubilee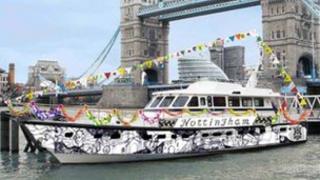 Eight students have been chosen to design the decoration for a boat which will represent Nottinghamshire during the Thames Diamond Jubilee Pageant.
More than 1,000 boats will gather on the River Thames to celebrate the Queen's Diamond Jubilee in June.
The design by students at Nottingham Trent University incorporates Robin Hood and Nottingham Castle.
The judges said the design was colourful and imaginative while being representative of the city and county.
Juliet Goodden, from the design team, said: "The Queen's Diamond Jubilee is a great celebration for the whole country, and we feel extremely privileged and excited to have been chosen.
"We hope the Queen will like it."
Injured soldiers, members of the public and county representatives will be on board the Nottinghamshire vessel, which has a total capacity of 40.
The Thames Trent Team's design was chosen by a judging panel that included Sir Andrew Buchanan, the Lord Lieutenant of Nottinghamshire, and Cdr Peter Moore, the former High Sheriff of Nottinghamshire.
Cdr Moore said: "The students had put considerable research into the project to produce a design that was colourful and imaginative whilst being representative of the city and county."