Zack Thompson 'sleepwalking' claim rapist is jailed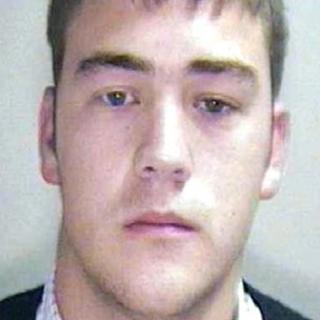 A Nottinghamshire man who said he may have been sleepwalking when he raped a teenager has been jailed for six years.
Zack Thompson, 20, of Lincoln Street, Newark, attacked the girl, now aged 19, on holiday in Portugal, in 2009.
He pleaded guilty at Nottingham Crown Court, but maintained the sleepwalking defence for more than two years.
Police said it was thought to be the first UK case in which such a defence had been successfully challenged in relation to a sexual offence.
Thompson had never denied committing the offence but said he had no knowledge of it.
In sentencing, Judge John Milmo said the defendant's actions had had a devastating effect on his victim.
"She said, 'I did nothing wrong', and she was absolutely right," said the judge.
"I only hope that today will mark an occasion when she can go back to being the happy young girl she used to be."
The court heard Thompson was 18 when he raped the girl, while they were on holiday in Albufeira.
He said he had drunk seven or eight pints before the offence and could not remember anything after that.
The victim reported the attack to police after arriving home to the UK and Thompson handed himself into Newark Police Station.
Dawn Pritchard, prosecuting, said the victim found the experience "devastating and humiliating".
"For the past two and a half years she's had to cope with what happened to her and waiting for this matter to resolve has been very difficult for her," she said.
Nottinghamshire Police said it had consulted an American sleep disorder expert, Prof Mark Pressman, who concluded Thompson's behaviour during the incident was not consistent with the actions normally displayed by sleepwalkers.
He said his behaviour was likely to have been the result of drinking an excessive amount of alcohol.
'Repeated disappointment'
Speaking after the hearing, Det Con Paula Winfield said: "Sleepwalking as a criminal defence had never been successfully challenged in a sexual offence case before.
"But we could not let that discourage us from doing all we could to achieve justice for a young woman who has been through such a traumatising ordeal.
"Thompson has had nearly three years to admit what he did and accept responsibility, but instead he chose to prolong the suffering and uncertainty for his victim."
In a statement, the victim and her family said they had "faced repeated disappointment" during the legal proceedings in the case.
"[There were] countless adjournments at court, which has been extremely frustrating and disheartening," they said.
"We are thrilled that justice has been done and that he will finally have to pay for what he did - but the ordeal does not end here.
"We have not walked away from court today free of this nightmare and, though we are hopeful for the future, we are sure our lives will never be the same again."