Three examined in hospital after Ryanair emergency descent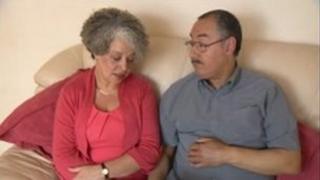 Three people were examined in hospital after a Ryanair flight to East Midlands Airport made an emergency descent following a cabin pressure alert.
The plane was diverted to Frankfurt in Germany; the German authorities said 10 other people suffered minor injuries.
Among the 134 passengers on board Wednesday's flight from Bergamo, in Italy, were Nottingham couple Melvin and Jacqueline Frater.
Mrs Frater said many of those on board were afraid during the incident.
"You could see the whites of the eyes of the people next to you. People were panicking but they weren't screaming or shouting," she said.
"You overheard the captain saying 'Mayday, mayday,' and he was saying it rapidly as we were going down. I thought my number was up."
'Crying with pain'
Ryanair said the captain had identified a pressurisation warning and descended from 31,000 ft to 10,000ft as recommended.
Mr Frater, from Bakersfield, said: "I don't know how long we were actually falling but you could tell it was rapidly because of the pressure in our ears.
"Then the children and babies started crying with the pain."
The aircraft landed at 12:00 local time and passengers were later taken on to East Midlands Airport on another flight.
It has been reported that another Ryanair Boeing 737-800 suffered a decompression on 6 February while flying from Bergamo to Charleroi in Belgium.
In a statement Ryanair apologised to all the passengers affected by the diversion and delay on Wednesday.
The aircraft has been examined, but the German Federal Bureau of Aircraft Accident Investigation said the full investigation could take up to a year.
A spokesman for the bureau said three people were taken to hospital for examination after the incident but were not seriously injured. Ten people received minor injuries but did not require hospital treatment.