Nottingham gospel church pastor fined over noise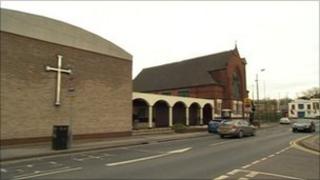 A Nottingham gospel church pastor has been fined for making too much noise, the city council has revealed.
Deacon Everton Lewis-Gordon and pastor Sean Samuel of New Generation Church on David Lane, Old Basford, appeared before city magistrates in March.
The charges against Mr Lewis-Gordon were withdrawn but Mr Samuel was fined £360 and ordered to pay costs of £300 for causing a noise nuisance.
Nottingham City Council said the case was prompted by dozens of complaints.
Four-year battle
Alex Norris, Nottingham City Council's portfolio holder for community safety and area working councillor, said: "We have tried everything we can to bring this matter to a resolution without resorting to court.
"Unfortunately, over a prolonged period of time, the unacceptable noise levels - sometimes above the traffic noise on the busy road - have not reduced and we have felt that prosecution was the only option to us."
According to the council, residents living near the church have been complaining about the noise levels for four years.
Noise pollution officers judged the volume of noise coming from the services to be a nuisance under the Environmental Protection Act after recording sound levels during services, some of which would last up to three hours.
Mr Lewis-Gordon and Mr Samuel appeared at Nottingham Magistrates Court on 21 March charged with causing a noise nuisance.