West Bridgford Sainsbury's plans revised after safety concerns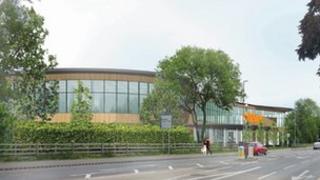 Plans for a supermarket in West Bridgford have been revised following safety concerns from a nearby school.
The Becket School said it would strongly object to plans for the Sainsbury's store after a public exhibition was held last year.
There were worries pupils could be hit by customer cars or delivery vehicles.
But after discussions with the school, Sainsbury's now plans to provide an area where pupils can be dropped off and picked up by car.
A planning application submitted to Rushcliffe Borough Council states that the drop-off area will "alleviate existing problems" on the local roads caused by pupils being taken to school by car.
Sainsbury's has identified The Becket Way, off Wilford Lane, as "possible access" to the store but this road is already used as the school's main entrance.
'Designed' for development
The company proposes building a roundabout on The Becket Way which would serve both the supermarket and the school.
The application argues that the road was originally designed to serve both the school and a residential development, but the housing plans did not go ahead because of flooding risk.
Part of the site was previously occupied by the Chateau pub, which was demolished last year.
The planning application states that Sainsbury's has been looking to build a new store in West Bridgford for a long time, and there are no more suitable sites.
It predicts that the supermarket will benefit the economy and will "complement" the smaller shops 1.25 miles (2km) away in the centre of West Bridgford.