Microscopic image of Queen created by Nottingham scientists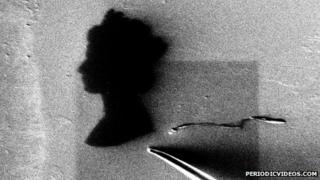 A microscopic portrait of the Queen has been created by scientists at the University of Nottingham to mark the Diamond Jubilee.
The portrait, which is invisible to the naked eye, has been engraved on a second-hand diamond and could be offered to the monarch as a gift.
It is so small it would fit on a standard postage stamp 300,000 times.
The experiment is also the subject of the university's latest video production to promote chemistry.
Diamond blasting
The engraving of the Queen, which measures just 46 by 32 microns, was created by Prof Martyn Poliakoff, Dr Michael Fay and Dr Christopher Parmenter from the university's Nanotechnology and Nanoscience Centre using a beam of charged gallium ions to engrave it on to the diamond.
Dr Fay said: "We basically blasted bits of the diamond out by firing heavy bits of atoms at the carbon of the diamond.
"We can do this very accurately and produce a very small image."
Prof Poliakoff, who presents the video, said: "It looks very like the Queen and from a scientific point of view, it looks very like the image that we used to make it.
"You can put one on top of the other and they match perfectly."
Having created the image, the university said it was open to suggestions as to what to do with it.
Prof Poliakoff said he would like the diamond to be used as part of a Jubilee celebration event. Other members of the team want it to be offered to the Queen.
The university has created a series of films, by Brady Haran, to promote chemistry which have been viewed on The Periodic Table of Videos YouTube channel more than 20 million times since 2008.