Catalytic converter thefts prompt warning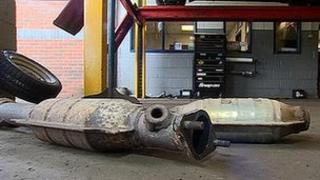 The theft of more than 30 catalytic converters from cars in Derbyshire has prompted a warning from police.
The two most recent incidents last week involved vehicles parked in Milldale Court, Ashbourne and Coronation Cottages, Osmaston.
But officers said there had 36 such thefts in the area in recent weeks.
They said the devices were usually targeted for their scrap value and owners should park either in a garage or somewhere well lit.
Catalytic converters, which limit toxic emissions from vehicles, contain valuable metals, including platinum, palladium and rhodium.
Garages said vehicles with high driving positions were often affected as they allowed access to the underside.
Simon Appleby, from Rinkway Autocentre in Swadlincote, said repair costs were often steep.
"We had one gentleman in here with a nearly new pick-up and it was over £2,000 to buy the replacement part alone.
"So for someone getting £100 or so for scrap, the owner is left with a massive, massive bill."