Nottingham prepares to vote in city mayor referendum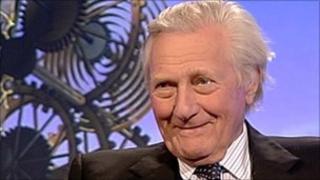 The city of Nottingham is used to having a sheriff and a Lord Mayor but there is some confusion about why it should have an elected mayor.
Nottingham's Labour leadership is actively campaigning for a "no" vote in the referendum, claiming it is a "stupid mistake".
Lord Michael Heseltine, an advocate for the "yes" vote, said Nottingham needed a "powerful, identifiable leader".
Nottingham residents will vote on 3 May in the mayoral referendum.
'No demand'
Jon Collins, leader of Nottingham City Council, believes an elected mayor would be an expensive waste, particularly at a time when his authority is facing government spending cuts.
"I don't think we should make a stupid mistake and end up with a city mayor," he said.
"It's something that's being imposed on cities by London-based politicians. There's just no demand for it here," said Mr Collins.
But those behind the "yes" campaign think differently.
Stating its case through a number of newspaper adverts, the "yes" campaign has been joined by Lord Heseltine, who was Deputy Prime Minister in John Major's government and is pro city mayors.
"Our great English cities want to reverse the north-south divide," said Lord Heseltine.
"Cities such as Nottingham need powerful, identifiable and accountable leaders. The problem with our cities today is that virtually no-one knows who the leaders are," he added.
Nottingham-based chartered surveyor Tim Garrett, who has advised the city council on promoting Robin Hood as a global brand, said the city needed to stand out.
"We need Nottingham to generate a higher profile and we need to get more visible," said Mr Garrett. "That's why I want a city mayor."
Chris Leslie, Labour MP for Nottingham East said the idea of elected mayors was a good one but not necessarily for his city.
"In Nottingham's case, we've already got pretty clear and stable leadership and - quite frankly - of all the things to have a referendum on in Nottingham, I just think this is a low priority," he said.
Nottingham is one of 10 English cities to hold a referendum vote on 3 May on whether to have a city mayor.