Nottingham indoor market improved after being 'left to die'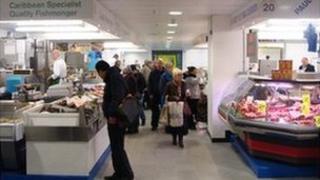 Part of an indoor market in Nottingham is being officially reopened after improvements costing £500k.
Traders at the Victoria Centre Market had claimed the place was being "left to die".
Nottingham City Council has now turned the meat and fish section of the market into a food hall.
The council hopes this will attract traders who are being offered a 50% discount stalls for the first six months.
Neil Ehrhart, markets manager for Nottingham City Council, said new traders were already moving in.
"We've had three new traders start since we did the refurbishment," he said.
"The problem we had with the old section is we reserved it purely for fishmongers and butchers, and it's difficult to recruit people like that nowadays.
"We've turned it into a food hall so we can get a wide range of goods in there."
New traders are being offered a 50% discount on stalls for the first six months.
There is space for 20 stalls but before the refurbishment there were only five traders - two fishmongers and three butchers.
One of these butchers has since retired, but the traders have now been joined by a halal butcher, a stall selling Cameroonian curries, and a stall selling Caribbean food.
The opening event is from 10:00 to 16:00 BST.
Local chefs will give live cookery demonstrations and there will be free tastings.
The market is on the first floor of the Victoria Centre in Nottingham city centre, and improvements have been made to the market's entrance from the shopping centre.
The refurbishment work has also included improvements to drainage, ventilation, heating, walls, stalls and floors.