Occupy protest leaves Nottingham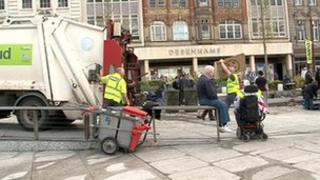 Protesters at the Occupy Nottingham camp have left the city's Old Market Square.
The anti-capitalist protesters, who set up camp more than six months ago, had been locked in a legal battle over their right to be at the site.
One of the group members, Carl Freeman, said they would move their campaign to other towns in Nottinghamshire.
Nottingham City Council said the camp had to move as it posed hygiene and safety issues.
A three-day trial to determine whether the camp could be legally removed was due to start on 30 April.
Mr Freeman said: "We're going mobile, we'll be going to market places, towns and places that deserve our attention.
"We're going to be visiting these and spreading our message to them."
The site was one of several set up in the UK in 2011 to voice opposition to what the protesters saw as unfairness in the financial system.