Nottinghamshire's Headstock Festival 'taking a break'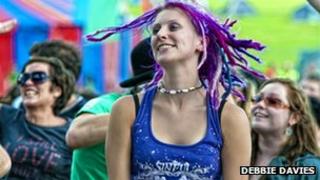 A two-year-old music festival which was set up to help revive a former Nottinghamshire coal-mining community will not take place this year.
The non-profit Headstock Festival, in Newstead, was organised by the charity Newstead Enterprise which was awarded £433,140 of lottery funding in 2010.
The organisation said it wanted to focus on the completion of its new country park near the village.
A Newstead Enterprise spokesperson said the festival would return in 2013.
In May 2010, Newstead Enterprise was one of six projects nationally to win a place on the BBC's Village SOS programme.
Thousands of people attended the 2010 and 2011 festivals, with all the proceeds going into new projects in the village.
Julia Thistleton-Smith, from Newstead Enterprise, said: "We have a huge amount of work still to do to complete our sustainable business including finishing the park's eco-build visitor centre and opening our angling lakes.
"As a group we've decided that regretfully we can't give Headstock the focus it needs this year."
Acts including indie rock band Ash and Echo and the Bunnymen have performed at the festival.