Nottingham teachers call two-day strike in term dispute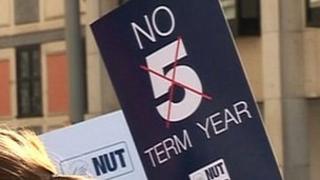 Thousands of children in Nottingham have stayed home as teachers staged a third one-day strike over changes to school terms.
The National Union of Teachers (NUT) is opposing council plans to switch to a five-term academic year.
The union said the action could be followed by a further two-day strike next week after it complained about a lack of progress in negotiations.
Nottingham City Council described the action as "unnecessary".
Teachers are against the plan to move to a five-term academic year with a shorter summer break.
The authority said the move would lead to a more balanced work and rest pattern but the NUT said there was no evidence to support this.
The third strike has seen 15 city schools shut and another 40 partially closed - a similar number to the two previous walk-outs on 29 March and 17 April.
'Harmful and inconvenient'
The union had called a three-day strike from Tuesday to Thursday next week in response to a perceived unwillingness to negotiate by the council.
It has now revised this to a two-day strike after the authority agreed to a meeting on Monday.
Ian Stevenson, from the NUT, said: "The fact we've got exactly as many schools on strike today as on the first day of action shows there's been no weakening in the resolve of teachers.
"We're hoping for a positive outcome on Monday but are still ready for more action if it is needed."
David Mellen, from Nottingham City Council, said: "To be escalating this strike in terms of increasing the number of days children are going to be missing is not at all welcome and I think unnecessary.
"We are still involved in talks with both a group of all unions of staff working in schools - that's ongoing until 18 May - and with the NUT.
"Strike action is harmful to pupils and very inconvenient to parents."
Another teaching union, the NASUWT, which has not so far taken industrial action, confirmed it was prepared to ballot its members if the council did not review its "entrenched" position.
Striking teachers met in Market Square at 11:00 BST before marching to the Mechanics Institute in Sherwood Street.