Peregrine falcons hatch chicks on Nottingham rooftop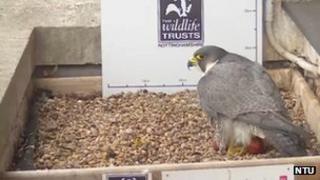 A pair of peregrine falcons have hatched four eggs on the roof of a university building in Nottingham.
The birds of prey have used Nottingham Trent University's Newton Building to roost for the past 10 years and raised 16 chicks during the past five years.
Three of the eggs hatched over the weekend with the fourth chick making an appearance on Monday.
Thousands of people from 65 countries around the world watched the chicks hatching on a live webcam feed.
Erin McDaid, Nottinghamshire Wildlife Trust's communication and marketing manager, said: "We're delighted all four eggs hatched successfully and there are some fascinating things happening in the nest now that the parents have to feed the hungry chicks."
In the six weeks since the webcams went up on the Newton Building, 260,000 people have watched the peregrines nesting, the trust said.
Wildlife expert Bill Oddie added: "With thousands of people viewing the family each day, the webcam gives people an amazing opportunity to see these wonderful creatures at close quarters."
There are estimated to be 1,402 breeding pairs of peregrine falcons in the UK, according to the RSPB.
The birds are a protected species by European and national law.